Meal Applications
Homeless Form.pdf
Income Eligibility Guidelines.pdf
Turn in Applications to:
Free & Reduced Price Meal Applications are screened and processed at the Food & Nutrition Services District office.
Here are some important tips to assist us in expediting the screening process & establishing meal benefits more efficiently for everyone:
1. Make sure the Meal Application is for the 2016-2017 school year
2. Verify that the application is filled out correctly & completely
3. Call the district office at
352-955-7539 ext. 1569 if you have any questions or concerns
Meal Applications
If your child attends one of the 31 schools listed on the flyer below you do not need to fill out an application. These schools are part of the Community Eligibility Provision program (CEP) and all students enrolled at these schools regardless of income will receive FREE breakfast and lunch. For more information on the Community Eligibility Provision (CEP) Program click here
Online Free and Reduced Meal Application
The 2016-17 Online application is now available!
Please use Internet Explorer web browser to submit application.

Please click here for Spanish version

Free and Reduced Meal Applications are available to families who believe that they may qualify. If your family chooses to apply, please return the completed form to the school office. Notification of your child's status will be sent home with your child. Until notification you must provide your child with a lunch or lunch money.

Only complete one application per family. The information you give will be used to determine or prove your child's eligibility for free or reduced-priced meals. This information may also be used for other state or federally funded school benefits.
Factors considered in the application process are household size and total household income. HOUSEHOLD SIZE is considered all persons, related or unrelated: Including parents, children, grandparents who live in your home and share living expenses. The TOTAL HOUSEHOLD INCOME is the income each household member received last month before taxes - this includes wages, social security, pension, unemployment, welfare, child support, alimony, and any other cash income.

Foster Children - In certain cases, foster children are eligible for free and reduced-price meals regardless of your income. If you have foster children living with you and want to apply for them, please contact us.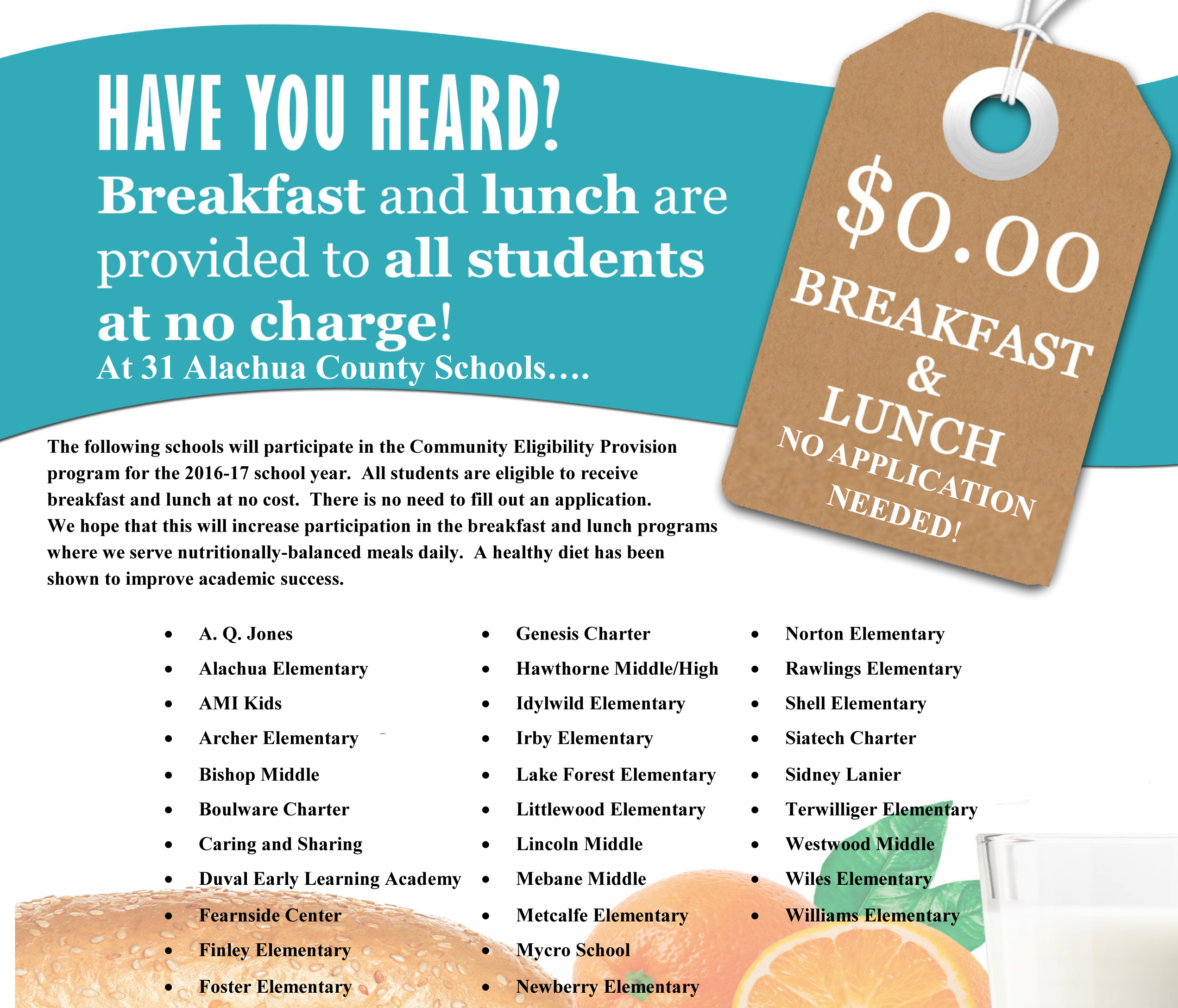 Through Florida KidCare, the state of Florida offers health insurance for children from birth through age 18, even if one or both parents are working. For more information click on the logo above to be linked to the Florida Kid Care home page.

If your family qualifies for the free or reduced meals program you may qualify for a "Step Up for Students" scholarship. To find out more click here.